I'm going to put post in here as I posted them in another blog. Then I will begin to do a daily journal. Or at least I'll try to remember! :)
One Day old!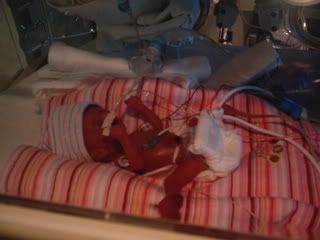 Saturday, November 24, 2007
Update On Carly
Current mood: thankful
Category: Life
Well today wasn't as good as of a day as I thought. I just got off the phone with Mary Ruth, Carly' nurse for tonight. She informed me that her right lung was not expanding. And the little sacs in that lung are filling up with fliud. There is an infection in the lung so they restarted her antibiotic again. She is still on the high frequency ventilator. She said her lung is doing this because of immaturity of the lungs. They are suctioning her lung to remove the secreations. They did an x-ray earlier of her lungs and will repeat this x-ray again in the morning. Oh yeah, they are also doing lung PT, it's where they tap on her back lightly with a little rubber mallat type thing to break up the secreations then what they break up is what the suck out with a machine. Her blood gases were in the 60's and they want them in the 40's, so they adjusted some things and got them back down for now. She said that she hadn't had any BM's in 2 days and they will continue to monitor that, but she is voiding which is good. So far she hasn't had anymore blood transfusions. And as of today she is at 440 grams which is 15 ounces. So no more weight gain as of yet. So she's had a rough day today. Please continue to keep Carly and our family in your prayers. As we all need them right now. We do have family, friends, and church standing behind us and being very supportive. So we are taking this one day at a time. I'm going to try and post a new blog everyday with her updates. So please keep checking in. Thank you all for your support and prayers.
Sunday, November 25, 2007
Not A Long Visit Today
Current mood: optimistic
Category: Life
I went to visit Carly today. We (me & mom) got there around 12:30pm and couldn't go in because they were bring in a newly delivered baby that needed to be stabilized. So we sat in the waiting room for a while before we decided to go have some coffee. We sat and drank our coffee and talked for a while. We went back to the NICU at about 1:50pm and it was still closed. So I went to the breastfeeding room to pump and betime I was done it was 2:30pm. Yay! It's finally open again. So after we scrubed up we went in and the nurse told us right away that we wouldn't be able to stay long because they were about to bring in a 2nd newly delivered baby that also needed to be stabilized. Boy they sure did have a busy day down there in the NICU. I geuss it's true what the say about a fullmoon, because it was a fullmoon last night! Well we were able to spen MAYBE 10 mins in there with Carly before we had to leave. She was resting so peacefully. I lifted her blanket off the side of her isollete to take a peek and I geuss the light disturbed her and she started stretching and wiggling around. I decided since I've already woken her I'd hold her tiny hand for a second. As soon as I grabbed her hand she quickly pulled away! What a fisty little girl! We I guess she needs to be in order to fight this battle she facing. I couldn't resist touching her tiny tennis ball head and feeling what little bit of peach fuzz she has! She looked so cozy tucked away so nicely in her little purple poke-a-dotted blankie that I bought for her.I wish I could have snapped a pic but the lights were too low and the pic wouldn't have turned out good enough to really see. I don't know if the flash is allowed in the NICU or not but her eyes are still immature and I don't want to risk hurting her eyes.
I spoke with the NP today as I was leaving and he said that they did an x-ray again this morning and she still has fluid in her lung. They will repeat this x-ray again in the morning. They are still tapping her back to break up the secreations so they can suction them out. And she's still on the antibiotics. Her O2 stats were GREAT today while we were there. I didn't get a weight because they only weigh her at night. So I'll post a new weight tomorrow. The NP wasn't much concerned about her not having a BM in the past 2days because she has been having them. He said seeing as how she's only getting 1ml every 12 hours ( which is next to nothing) it's kinda like nothing in....nothing out. He belly isn't hard or distened so he's not worried. Oh yeah and the color on her abdomen is looking better, not so grey and blue now. So that was good news.
Oh yeah, I seen her move her mouth and thrush out her tongue for the first time today. Funny how something SO small can mean SO much!
One of her nurses put a Happy 1 week Birthday indexcard with a birthday cake drawn on it on her isollette. I thought that was super sweet. Today on her mommy's birthday she turned 10 days old. YAY Carly!
I Love & Miss You So Very Much Carly Nicole Elliotte! Love, MOM
UPDATE---- 8:40PM
Carly is now getting 1ml of breastmilk every 6 hours instead of every 12 hours. And she has lost an ounce so hopefully she'll gain it back along with many more soon.
Monday, November 26, 2007
Another Down Day
Current mood: good
Category: Life
Well to start things off I woke up this morning having the worst dreams ever about Carly. So needless to say I didn't start my day off too well. Although one highlight of the all so bad dream was when Carly ( quite a bit older) wrapped her arms around me and gave me a hug. Oh the emotion that I felt at that point in my drean was incredible. Just an absolute amazing feeling!
At around 9am I got a phone call from the NICU telling me that they had to turn Carly's vent up and put her on 100% oxygen. She also has pulmonary hypertension ( too much pressure in her lungs). They will now do an echo gram everyday to measure the pressure. And also daily lung x-rays to monitor her pneumonia. The Dr. said that the tiny little vessels in her lungs are not opening up enough, bringing in enough oxygen. So they wanted to put her on nitrous oxide to help open up those tiny vessels. They had to get my permission because it's not FDA approved for preemies ( but is FDA approved for term babies). So of course I said to do it. I want them to do all they can to help her. If this medication dosen't work they will try steriods. The only thing with the steriods is that it could cause mental problems down the road. So they gave her another blood transfusion today. This the 3rd one so far I think. She hasn't had one since last Monday though. Her hemoglobin was 9.5 and it's suppose to be 12.5. So the blood will bring that count back up hapefully. It will also help bring up her O2 sats. Today her O2 sats were all over the place. They wouldn't stabilize for nothing. Well at least not for very long periods anyways. Her O2 sats should be between 90%-95%. It went as low as 64% and as high as 100% today. The red blood cells carry oxygen and when your hemoglobin is down it's less blood cells to carry oxygen. So hopefully the blood she received today will help to improve her O2 sats soon. If it stays too low for too long her organs could suffer damage and if it stays too high for too long it could cause problems with her eyes. But the nurses there are very good about getting to her as soon as her alarm beeps. And try to increase O2 levels when it gets too low, or suction her lungs or mouth. Or if it gets too high for too long they were quick to turn the O2 down. They are great at taking care of her. I mentioned in my last update on her when I edited it that she was now getting 1ml of my breast milk every 6 hours instead of every 12 hours.
I got to visit for a LONG time today! I was there for nearly 6 hours! I was SO glad to be with her all day. She looked so good. It looks like her peach fuzz on her head is turning black or extreamly dark brown. You can't really tell in her pics though. Her skin is starting to turn a nice pink color and is no longer sticky feeling. I held her little hand and cuped her little head today. She's so sweet and innocent. She also got to have tummy time today. She looked so comfy on her belly. I laid my hand on her little back for a few seconds. I can't hold her so gental touching is the closest thing I have right now. It was so funny while I was there....her O2 sats would level out then Pattie (her nurse) would walk away to feed another baby then Carly's O2 sats would drop again. Pattie would come back to check on her then she's quickly level back out. I think Carly was jealous and wanted ALL of Pattie's attention all to herself! It was kinda funny. Her PawPaw Morton got to visit for about 30-40mins today too. He loves her so much! And daddy visited today too. He loves to look at her face. It's a shame it always has to be turned away from us (because of the ventilator). She had her eyes open alot today but wouldn't open them for any pics! What a stinker! Nurse Pattie was so nice to get her a little white shirt and a little pink hat even though it will be quite some time till she can wear it. Nurse Pattie did say I could put her in an outfit on Christmas Eve so I can take pics, so I'll be shopping soon for baby doll clothes. Seeing as how that's all that will fit her! LOL
Grandma Elliotte brought by some nice safari baby animal print fabric today to show me. Two different styles (prints) one for curtins that grandma Elliotte will sew for her room and the other fabric will cover the cushions on the glider in her room. She also got some nice safari animal canvas pics for the wall. It's all SO cute. Carly will love it! Well that's it for today. Until next time....... I Love and Miss You Bunches Carly! xoxoxo Love Mom!

Tuesday, November 27, 2007
A GOOD NIGHT!!!!!!!!!!
Current mood: grateful
Category: Life
Well we just got back from the NICU. Ryan dropped me off at 8pm and picked me up at 12:30am. YAY! I got another long visit! As I said in my last post, Carly was still having a not so good day this morning. But tonight she was doing GREAT!!!!!!! Her o2 sats were stable the entire time I was there. Her blood gases were good. This morning her O2 was set at 100% and was turned down to 95 or 92 when we left this afternoon. But tonight it went down to 75%. So that was much better as well! They were still getting some gunk out of her lungs but mostly white and not yellow. White is better than yellow. And none is better than some. But I'll take what I can get right now! So I sat there for 4 1/2 hours jjust staring at her! I could watch her for days! She held onto my finger while I was there. It was a nice visit and made me feel so good that she was haing a good night! She looked VERY peaceful. Only thing tonight was her blood sugar was up to 228. Earlier it was 82. They want it between 50 and 120. But they added more sugar to her tripple mix whih is what increased her BS levels. So they gave her something to help take out some of the sugar. They rechecked it an hour later and it was 211. So it is slowly coming back down. Oh Yeah.....she gained her ounce back! Back to 15 ounces! I can't remember if I said something in my last post or not but they stoped her feedings (my milk) until she gets better. So hopefully within the next day or so she can restart mama's milk. Well that's it. She had a great night! Thank You Jesus! Lets keep praying for many good days to come.
Ryan has been very supportive today. He has giving me MANY words of encouragement. He's definatly staying really strong! It's really helped to hear him be so positive where I've been kinda down the past couple of days!
Goodnight Carly Girl! Love and Miss you Bunches! Love, Mom!
Daily Update 11/27/07
Current mood: grateful
Category: Life
Well I went to visit Carly around 2pm today. And her nurse said still having a bad day. Not any improvement. The did administer the steriods this morning. And will repeat another x-ray in the morning. The lower part of her right lung is still collapsed. But they are using still using suction to remove the secreations. She had been on 100% oxygen all day and still had low O2 sats. They administered a small dose of fentanyl (pain medication) and it helped to relax her where she was wiggling so much. Once they did that her O2 sats got much better. So they are going to put fentanyl in her tripple mix and give it to her in a continuious drip. This will help to sedate her until they can stabilize her. She may be on it for 3-4 days. While we were there right before we left her respiratory therapist came in to check her blood gas. It has been being bad. Well today it was good. Thank God! After we said a little prayer over her, her alarm sounded and the Nurse came over and said OH My she finally broke! So we got to turn down the vent and O2 some! Thank God! So before we left she was starting to get good readings on the monitor. Her O2 sats were pretty stable towards the end of our visit.
She really looked good today. And silly me forgot my camera today. And on the day I forget my camera.....she keeps her eyes open almost they whole time! I got to hold her tiny little hand today. And today for the first time I seen her have the hiccups! It was too cute! I hope to go back tonight for a little bit. I forgot to get storgage cups for my milk so I have to go back. I'll see if I can talk Ryan in to droping me off then picking me back up after his meeting. I love to watch her so I hope I can go back. Well that's about all I can think of right now. I'll post another update as soon as I get it!
I love you baby girl! I miss you bunches. Love, Mom
Wednesday, November 28, 2007
Carly's doing better
Category: Life
Well this will be a short little blog. Just wanted to let everyone know that I just spoke with Nurse Patti on the phone and Carly is having an even better day today! Her oxygen has been turned down to 45% which is wonderful! And the pressure in her lungs are down according to her echo that was done this morning. He blood gasses are still doing good. So she's responding very well to the nitric oxide and the steriods. Her brain scan shows no bleeds now but does show enlarged ventricles. This "COULD" cause mental problems in the later future. But it will be a long time before we will know anything for sure. I'm going to take a visit today around 5pm so if I have anymore news I'll post it as soon as I can.

Thursday, November 29, 2007
Carly's Having an Even Better Day!
Category: Life
Well I went to the NICU to see miss Carly today. She's still improving and doing MUCH better! Her O2 was turned down to 30% and they turned down her chest wiggle! She was lying on her tummy. I think she looks more comfy on her belly. Blood sugers are better and blood gasses are right where they should be. So overall no declines, only improvements. Thank GOD for that!
I'm hoping I can go back tomorrow. I'm starting to get a headache and I'm hoping it's not going to turn out to be a cold. If it is a cold then I'll just have to wait till I'm better to see her! OH let's pray it's not a cold! I miss her WAY too much to skip a couple of days!
Love you baby girl! love, mom

November 30, 20007

Coming Off The HFOV!
Category: Life
Just talked to her Nurse on the phone and she's doing real good today. They turned her O2 down some more. They are turning her (HFOV) vent down even more! They hope to have her weaned to a more conventional vent by this weekend! And they are starting her back on her feedings today! Praise God! Her pressure in her lungs are good, they'll repeat another echo later this afternoon. Her fluid on her lungs is almost gone! And they started her back on her feedings today! Did I mention in my last post they Carly hit the 1 POUND mark yesterday?!?!?!?!?!?!?!!!!!!!!!!!!!!!!
I can't see her today because of a cold but soon enough I'll see her again! Hopefully on a conventional vent when I get back!
Love you Carly!
November 30 2007
Well lets start with the bad news first so we can end on a good note!
Carly's whole right lung collapsed this evening! Dunno why, or what will come of it. They put her back up to a 100% O2 earlier this evening. So we've taken 1 step back.
Good news......She was switched over to the conventional vent this evening and is doing well with it! By 9pm they had got her O2 back down to 75% and slowly continuing to drop. Her blood gasses are still good. And she gained another ounce! Now weighing 1pound 1 ounce! And she still looks good!
Well they say 2 steps forward and 1 step back slowly gets you out of the NICU!
Still praying for you baby girl! Love you and miss you bunches! Love, Mom
3 weeks old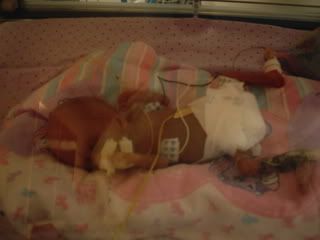 Wednesday, December 05, 2007
Carly..........
Category: Life
is looking good today! I got to change her pee-pee/poopy diaper and hold her slightly off her bed long enough for the nurse to change her linens. She did extreamlly well with all the stimulation during her care tonight. I totally woke her up! She was so wide eyed, and they looked much more clear today. The film over them didn't seem to look so thick. She seemed to focus her eyes for longer periods today as well. It was almost as if she could see us as she looked at us. I'm still not sure if she can really see us yet or not though. She's slowly gaining back the weight she lost. She's only 10 grams away from being back to her 1 pound 1 ounce again. She's now getting 1ml of my breastmilk every three hours now. She's had to skip 2 feedings though because of not completly digesting her last feeding. But seems to be tolerating the feedings pretty good overall! Still no growth yet in length. Her head is still growing though. She started out at 21cm and is now 22 1/2 cm. She does still have fluid on her head. I'm gonna talk to the Dr. tomorrow about her thoughts/concerns/ and plans on the fluid. Well that's all I got for today.
Goodnight sweet baby! Love you, Mom
Saturday, December 08, 2007
Keep it up Carly!
Category: Life
Well carly has had a good day today. She was at 23% oxygen mostly all day today which is great! (21% is room air) I've never seen her below 54% oxygen but is usually hanging around 65-95%. So 23% is just awsome! They weaned down on the vent a lot today as well. They may wean her nitrious oxide more tomorrow if her echo comes back good. After she's weaned off the nitrious oxide they will slowly start to weann her off the steriods (hydrocortizone). She seemed to do well with her care today. Her stats dropped as usuall but they didn't drop as bad. I also rubbed her little head today for about 5 mins and she tolerated the stimulation without any drops in stats. The nurse allowed me to turn her on her side and get her in a comfy position. She loves it on her side with a wash cloth rolled up between her knees with a gel pack helping to hold her legs together. I washed her hands because they had this awful guke on them!?!?! I like to be able to do little things for her, makes me feel more like a mommy! ( Thanks Shannon S. for telling me to ask the nurses to let me do her care! They have no problem with it!) So now everyday I make sure I'm there at her care times. I love to change her diapers, wash her face and take her temp. They also let me hold her up off of her bed just high enough for the nurses to change her linens. I know it sounds silly but it's the closest thing I have right now to mothering her. And I love EVERY second of it! She slept the whole time I was there (1pm-5:30pm) all except for when I told her bye....then she all of a sudden was completly awake and wide eyed!
She does have an infection in her blood stream. There are 2 different types of bacteria growing, one is e coli and the other they are still waiting to find out. They are treating with antibiotics but they are pretty sure the antibiotics will clear it up. There is a VERY small risk of the antibiotics causing kidney damage so they will doing routine renal panels to make sure her kidneys don't suffer any damage. They also did a spinal tap to make sure that there is no infection in her spinal fliuds, and so far nothing has grown in the labs....tomorrow around 5pm we will know for sure if we have a negative result.
They took her off the lasix today and also took her off her fentanyl the day before yesterday (Thursday). Her right lung seems to be looking some better.
So other than the infection in her blood she's doing really good! (They said it is quite common for preemies to get infections in their blood streams). So that's all I got for now. I'm sure there's more but I just can't think of it right now.
Love you Bunches Carly! Love Mom
First Hair Bow!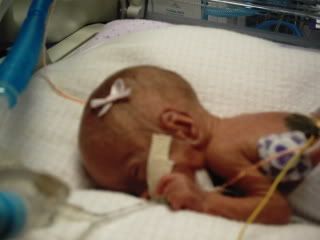 Carly's update! 12/10/07
Category: Life
Well today has been a good day. They had weaned her down to 5 on her nitrious oxide then completly took her off. But she didn't like it too much and was needing more oxygen. So they put her back on the nitrious oxide ane will wean it slower. So now they have her NO at 4. And when I left her O2 was back at 33%. She's still on 2 antibiotics for infection, but the 2nd blood culture they did isn't showing any bacteria!!!!! YAY!!!! No bacteria in her spinal fluids either!!!! She's up to 1 pound 2 ounces! Dr. Neal was circling around the idea of adding calories to my breast milk as well as increasing her intake to 5ml every 3 hours. So hopefully by tomorrow I'll know more about that. Dr. Neal said the calorie increase would help her pack on the weight. She has grown a half of an inch in length....now 10 1/2 inches long. Go Carly Go! She's still getting good readings on her blood gasses so they turned her vent down more. Her lung is still a little congested....when I lay my hand on her back I can feel it rattle as she breathes. So she has had a really good past severel days!
Oh and I have a friend there who's baby was born at 34 weeks with a heart defect and a bowel ubstruction and needs 2 surgeries. They are not sure if they will do it there or fly her to another hospital. She's having a hard time this week and also really needs prayers! So please remember her as well! Thanks.
Love you Carly!
Monday, December 10, 2007
Real Fast....
Category: Life
I'm only writing about one thing then I'm off.......
I got to hold Carly tonight for the first time ever! I held her for 35 mins! It was just amazing! Finally after waiting 3weeks and 4 days they day I've been waiting for came! What an awsome "early" christmas gift!!!!!!!!!!!!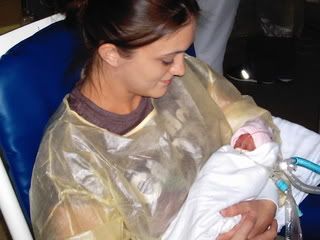 What a little pumpkin head!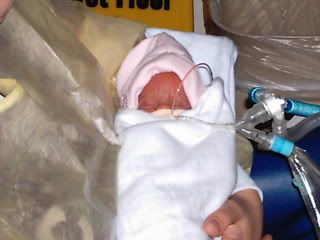 First Family Photo!
First time wearing a boggin! (getting ready to hold her) It swallowed her head whole!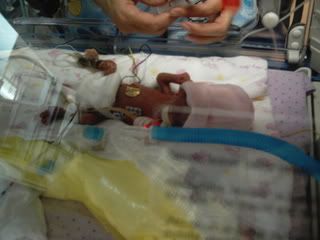 Saturday, December 15, 2007
More Steps Forward!!!!!!!!!!!!!!!
Category: Life
Well last night I was able to do kangaroo care with Carly for the first time. This is skin-to-skin contact for no less than 90mins a day. This was amazing! She laid on my chest for 2 hours! She didn't move once. I've never seen her be still for longer than 30mins at a time! She absolutely loved this. You could tell she was completly comfortable and content. Her sats were awsome and didn't change at all during this time. They say that this type of care has nothing but positive outcomes for preemie babies. From increased weight gain, temp. control, shorter hospital stay, etc. So I intend on doing this everyday as long as she's continuing to do well.
Today I got to give her her first bath. She loved this as well. She squirmmed the first time the wash cloth touched her and her sats dropped a little but withing seconds they jumped right back up to where they belonged and stayed steady. She tolarated it very well. I washed her hair as well. After bathtime I lotioned her tee-tiny body. Funny......the size of a HALF sweet pea was enough lotion to cover her entire back!!! LOL It was great! I loved bathing her and lotioning her body. These little things help me to bond with her and feel like a mommy. Some ladies at a church knit hats and blankies and give them to the lil babies there at the hospital. So today she finally got 3 boggins that fit. A pink, yellow, and a red christmas one with a little piece of holly (sorta). There is also a radio station doing a radio-a-thon to help raise money for the Children's Hospital and they gave all the babies a cute brown bear! Tonight I'll be placing a picture of Ryan, Me, and Carly in her bed so she'll be able to look at us. Also I'll be recording my voice reading a book and put it in her bead as well. They nurses will play it when I'm not there so she can continue to hear my voice and hear different words.
Today they weaned her nitrous oxide to 1. Tomorrow she'll be off of it completly. They also weaned her steriods today too. She should be off those within a week or so from today. They discontinued her TPN (nutrition supplament via IV in her leg). This means that when her antiobiotics are stopped in 10days that she'll no longer have any IV's in her tiny lil body!!!!! She's up to getting FULL feeds now! Which means she only gets and needs mommy's milk now!!!!!
I talked to the respiratory therapist last night about her vent. She said that her vent settings are great. That she's at vent setting that show she's able to go on the bubble CPAP but seeing as how she's so small she needs to stay on the vent. The reason is that it takes more energy to breath. So she'd use all her energy trying to breath instead of trying to grow. So they are letting her stay on the vent so she dosen't have to work so hard so she can grow bigger. Once she gets bigger then they'll switch her to the bubble CPAP! So this was wonderful news!
So we are moving right along. Right now her weight has been fluctuating between 1lb 3oz and 1lb 4oz. So she's doing great!
Kangaroo Care!!!!!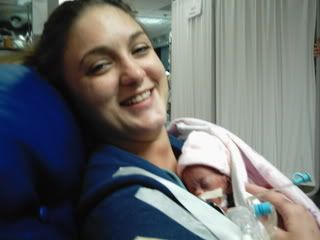 Friday, December 21, 2007
Carly update 12-22-07
Well I know it's been a while since I posted a blog. So I'll see if I can remember all that's happen since the last time I posted.
To start with Carly tried to give me a heart attack last week when she self extubated (pulled her breathing tube out) herself. It absolutly scared me to death. I felt so bad for her. I know it's so umcomfortable to have to have the tube put back in. I swear that day I saw her first tears in her eyes. It just hurt my heart so bad. So I sat there with her after it was all over and just kept my hand on her side trying to comfort her.
Okay so she's been doing good no bad new to report really. Other than her trying to jumpstart my heart last week. Her blood sugars have been kinda out of conrtol. They've been super low. Like 20's-40's. So they tried many different thing such as bolus injections of glucose and continuious feeds neither seemed to work. So they stopped giving her my breast milk and put her on formula. They say you can only assume that breast milk has 20 calories and they really don't know that for sure. But they can be positive that the formula has 24 calories. So for the meantime she's on formula to help with her sugar levels. Whichh seems to be working great. This should also help her to pack on the weight. Now since being on formula her sugars have been in the 80's to 110's which is great!!! And yes I'm still pumping. They are hoping to get her back on breast milk as soon as possible. I had to start taking medicine for my milk production because it was slowing fading away. Now it's back up and better than before! I got 5oz this morning which is the most I've ever got in one pumping!!!!!!!!!!!!!! We've been doing kangaroo care every day now. And Ryan held her the day before yeaterday for the first time! He loved it! She just loves to be held.
Her oxygen levels have been good. Low 20's to low 30's. When daddy held her the other day she went to room air!!!!!!!! That was the first time for that! She's been maintaining her O2 sats as well. I was kinda worried about her O2 level and sats levels because she asperated the other day when she pulled her breathing tube out! I was afraid she'd get pneumonia again. But so far so good! Today I went in and they told me that they started her on caffine. When I asked why they said they usually do that a couple of day before they extubate (take breathing tube out) them. I was like OMG why would you do that!!!! They are going to try her on CPAP in the next day or so. The caffine will help keep her from having spells of apnea. So I'm kinda nervous about them puttin her on CPAP be excited in the same time. I will actually get to see her whole face and possibly hear her cry and sneeze for the first time! What a wonderful christmas gift that would be! Ane she would finally get they awful tube out of her throat! So I'm hoping she'll do well with this change.
Well I can't think of much more. Although I know there is more to say. But for now that's all. I'll give more updates as I get them.
Love you Bunches Carly Baby!!!!!!! Love MOM!
One month Old!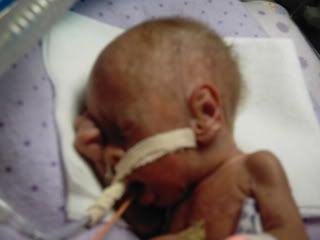 Monday, December 24, 2007
CPAP
Yesterday Carly didn't get delt the best of hands again.  The doctor decided to take her off the vent and try her on CPAP. It would have been okay if her nurse would have stayed with her the whole time to be assured the little prongs didn't slip out of her tiny nose but they have more than one kid at a time. So the prongs slipped causing her to work VERY VERY VERY hard to breath on her own, which caused her blood gasses to drop, her O2 sats to drop, and her heart rate to drop. Her blood gasses were in the 60's and her O2 sats dropped as low as 12 and are suppose to be between 85-95. Her heart rate dropped to 34 or 44 and should be any where between 130-160. So needless to say they had to bag her to bring her back up. During the time she was being bagged she began to vomit all of her formula all over. I was so upset for her that is! They ended up having to put her back on the vent because she was extreamly tired from working so hard to breath. I was a nervous wreck all day yesterday. It was in that moment I wanted to go across the street and by a pack of cigs. I haven't smoked or even wanted a cig since I found out I was preggo, if that tells you what kinda day I had! They are gonna try her again on CPAP this Thursday! So keep praying for her that she'll do it this time! Yesterday she did breath on her own for 4 1/2 hours before having to be re-vented. So I think she did good for what she did. She fought as hard as she could! Maybe next time!
I also dressed Carly in a beautiful dress that her primary nurse Patti made for her! (Thanks Patti that was super sweet of you!)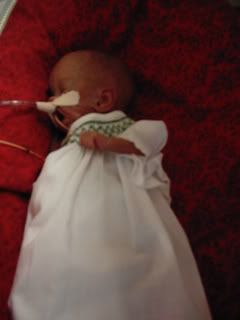 And here is tummy time today!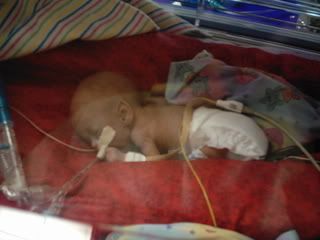 Thursday, December 27, 2007
CPAP.....Again!
Well today Carly was put back on CPAP. Well last weekend she was on Bubble CPAP and this time today she was put on regular CPAP. Today she only lasted a couple of hours before having to have the vent put back in. But bless her little heart.......she tried! While she was still on CPAP and having problems with her heart rate ( tons of brady's and desats) I got to hold her with my hand supporting her head and neck and my other hand supporting her bottom and legs and had her facing me. It was the first time I was able to hold her that way and really get to look at her face. I couldn't help but cry. Not only because I finally got to hold my baby the way I've been wanting to but also because she was so tired and struggling to breath and you could see it in her face. Thank GOD they got the vent back in so she could relax! Maybe next time she'll be ready!
My friend Bre and I went to Target today to pick up severel things to start scrapbooking today. There is a class the 1st Friday of every month at the hospital for mothers in the NICU to do scrapbooking together. So we start this Friday. I think we will really enjoy this! I'm so excited.
Oh Carly also had her 3rd eye exam today to check for ROP(http://www.lowvision.org/retinopathy_of_prematurityxx.htm). So I should get the results in a day or so. But the last 2 exams showed no signs of ROP. I think her having the eye exam today only 2 hours before going to CPAP could also be a reason she didn't last too long off the vent. (she was ALREADY tired before going on CPAP!)
Love you bunches Carly! Love Mom
2nd go at CPAP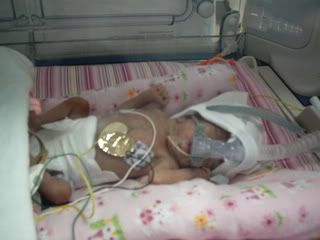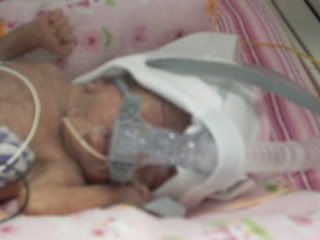 first outfit (bought it at a babydoll store!)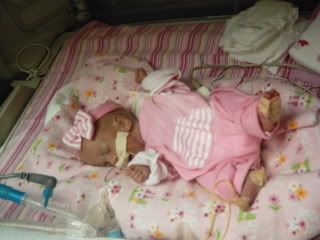 Sunday, December 30, 2007
RSV????? Set Back!
Category: Life
Well to start with a baby in Carly's nursery has come down with RSV and is now isolated. So Carly along with all the other babies in the nursey received a shot for RSV yesterday. Well this morning I'm awakened by a phone call from the NICU. They had to put Carly's ventilator back to pressure support ,( the HFOV not the conventional vent) they had to increase her rate from 25 to 45 and they had to increase her peep from 12 to 14, she needed a blood transfusion, and the did a chest x-ray. She's showing some white spots in her lungs which could be a number of things. It could be a touch of pneumonia, and it could be lung damage from the ventilator but the most scary thing is it could be RSV. I'm so worried about that. I ment to ask if the checked for RSV but I was in such shock from the news that I for got to ask. Hopefully it's not though. I'm gonna ask them to test her whe I get there. That's where I'm headed now, so Ill post more as soon as I get it.
I love you Carly!
Saying her prayers!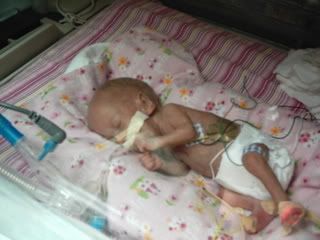 Monday, December 31, 2007
No RSV........
But she does have CLD/BPD. They are still going to give her antibiotics for 48 hours incase she may have a touch of pneumonia. She looks good today and is resting well. Hopefully in a few days she's be off the oscillator (HFOV). They did increase her feeds to 4.5ml every hour.
We are gonna go back late tonight and ring in the new year with her.
I'll update you all as I get updates!

Saturday, January 05, 2008
Broken Leg
Okay I'm back. Her right femur (thigh) is broken. I spoke with Dr. Chu and they noticed her leg was swollen last night around 4am. They did an x-ray and noticed the fracture. Dr. Chu told me that by looking at ALL of her bones on the x-ray she has this condition called Osteopenia of Prematurity
so her bones are very very fragile. They HAVE to take the extra time to be extra extra gentle with her. I poke with other doctors and nurses their to see just how common this was and apparently it is quite common. Although it's common it dosen't seem to help the fact that my baby's leg is broken and she's in pain. Now mommy's in pain! She's on morphine every 4 hours for the pain so she's pretty much knocked out. They said the "cast" (not really but it's all they could do for someone her size) will have to stay on for AT LEAST 3 weeks maybe longer depending on how well her leg heals.
Now she also last night had to have her breathing tube pulled out and replaced because it was clogged full of secreations and she couldn't get any air in or any air out causing her to have bradys and desats. So now that they re-intabauted her they had to turn her pressures back up on her ventilator (HFOV) which means it will be even longer till she can go back to the conventional vent. She's had such a rough week. I know they call the NICU a rollercoaster but she was doing so well I guess I didn't think we would have to experience it.
It's been a while since I've held her ( christmas night) and now that all this has happened it's gonna be even longer now. I know at least 3 weeks. Her leg has to get better first. I just wanna hold her and let her know it's gonna be okay.
This whole NICU experience thing is starting to get to me. Sometimes I feel like I wanna just lie down and give up. It's starting to get tough. I wonder when the ride is gonna start going back up hill. I've done so good for so long but now the anxiety is starting to wear me down. I'm sure things are gonna be fine and they'll get better but I'm just in a rut and felling kinda down right now.
I'll post another update as soon as I can.
Broken Leg....poor thing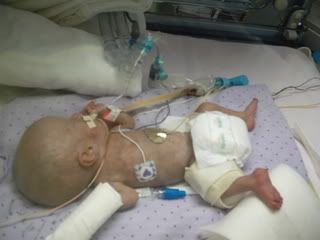 First time I seen her whole face!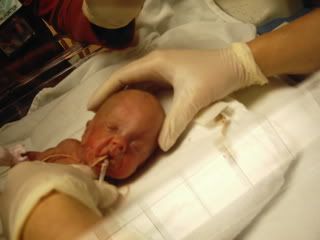 Nurse Mary Ruth changing her "stinky" butt! :)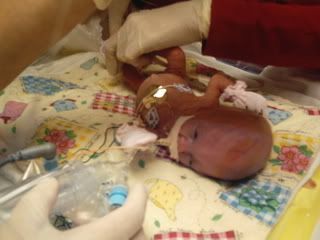 update 1-7-08
Well no RSV!! But Carly does have an infection in her blood AGAIN! She's on 3 different antibiotics and will remain on them for 21 days. She had a bad morning with I think some where around 7 desats in an hours time. You can look at her and tell she dosen't feel good. Hopefully the antibiotics will help her feel better soon. As for her leg, still no better brace on it. We are waiting for the Peds Ortho Dr. to come by and set the bone and have OT put a better brace on it. Hopefully it will be done by this afternoon. She's still taking the morphine for pain.
My friend's baby's heart surgery was pushed back and is scheduled to be tomorrow morning at 7am. She's really nervous. Her and her baby will no longer be in the North Nursery with me and Carly. I'm really gonna miss them. Brianna is one of my biggest supporters. We help each other through all of our ups and downs. It's gonna be hard not having her there everyday. Carly and her baby DeAnna are neighbors. Hopefully in many weeks to come her baby will have recovered enough to come back. Please remember Bri and her daughter in your prayers.
I start my classes on the 9th. OMG that's only 2 days away!!!!!! This too is gonna be kinda rough as well I think. I'm praying that GOD gives me the strength to stay focused so that I will do well. All 3 of my classes are gonna be online classes so hopefully I can take my laptop to the hospital an use their wireless service and if needed I can use their resource center. I'll be so glad when I no longer hae to go to school!!!!!!!
Monday, January 07, 2008
Just Found Out
That they will NOT be setting her leg or putting any new bandage or brace on it. They said that babies that small bones heal without any intervention. I'll understand more tomorrow when I talk to the Peds Ortho myself. She's resting well tonight but still on high vent and oxygen settings. I'm sure she'll start feeling better here soon! I'm posting new pics in a few mins from tonights visit.
Thursday, January 10, 2008
**sigh**
Well Carly's still sick and not getting any better yet. She had another chest x-ray this morning and her right lung looked really bad again. hey thought about putting her back on the oscillator but decided that it probably wouldn't help much. She still up on her oxygen 70%-100%. Her vent setting are the highest they've ever been. They tried to put a PCVC in her leg today but failed. So the put a regulat IV in her head right above her forehead. They will also be attempting a PCVC in her head as well right behind her right ear. I really don't like seeing things stuck in her poor little head! She was very restless today and seemed to need more pain meds. And still was restless afterwards. I don't know if I already said or not but they increased her steriods. Good thing is that she is still tolerating her feeding so that they keep increasing them. Right now she's up to 5.5ml every hour. Her weight is up to 2 pounds. Her leg is still pretty swollen though. She's had a pretty rough week or so. I'm just ready for her to feel better.
As for my friend Brianna. Well her baby went into surgery for her heart the other day and it lasted almost 12 hours. In less than 24 hours they had to go back in to repair a leak which took another 5 or more hours. Then today they had to go back in and do something else because only half of her heart was pumping! Poor little girl has went through so much! This last time today has helped and her whole heart is pumping now on it's own without the pacemaker! Praise God! Brianna is very stressed and tired! I can only imagine how she feels. She took me down to see her daughter this evening and she's looks so peaceful! She is now on ECMO and we are praying for a great outcome! I know it's hard for her mama to see her hooked up to all those machines and pumps. It was hard for me and it's not my daughter. I just want to take all her pain away! This NICU experience has become a rollercoaster for us both at the same time. I really glad we have each other. God knew what he was doing when he put us together!
Now as for school! All I can say is UGGGGGGGGGGGGGGG!!!!!!!!!!! I signed up for classes BEFORE Carly was born. So I wasn't expecting 3 classes to be so difficult to manage. But now I know it's gonna be too much to handle. I'm going to drop 2 of my classes in the morning. I know I can handle one class. I'm in no rush to get finished. I'm just goning to work at my ow pace. Eventually it will get finished.
Friday, January 11, 2008
PLEASE KEEP PRAYING!!!
My friend Brianna's baby, DeAnna is not doing so good. After 3 heart surgeries she's getting tired. She is on ECMO right now (heart/lung bypass machine) and is also still on the vent. They told Brianna today that if her daughter dosen't make any improvements in the next 24 hours they will be talking to her about taking her off of her support. Please keep this little angel and her family in your prayers. Brianna and I have become VERY close durring our NICU stay. She's almost like my sister. I love her and her baby so much and it hurts me to see them going through so much. This has been a difficult road for us both but I coundn't possibly know how she feels right now but I could only imagine. I wish I could take all of her pain away. But like I said please keep her and her family in your prayers. They are much needed right now!